FAQ
Where are we located? On a beautiful 6 acre property in Black Mountain.
Where does my dog sleep? All dogs are allocated size appropriate crates in a heated/air conditioned building on our property. The building is secure and is armed with camera and smoke detector. There is someone on our property at all times. We have two specifically built steel indestructible kennels for escape artists, strong dogs, and less dog friendly dogs.
Can I come see my dog through out their training week? Your dog has come to train with us, and a part of the training process is teaching you new ways to interact with your dog. Having people stop by and visit their dogs through the week with out training their human will backset the progress we are making with your dogs new behaviours and obedience, as well as taking up training time from your dog's week. Therefore we ask that you give your dog the best chance to succeed by refraining from visiting. However, we are more than happy for you to call and e-mail for updates, as well as we will post video's and pics on FB and IG to track your dog through the week.
Can I come meet you before I bring my dog for a board and train? Absolutely, please email us to book a time.
What should I bring? You will receive a specific list of items to bring in your booking email.
What is the dog/trainer ratio? We have two full time trainers. Each trainer works with 4 dogs per week. This allows for plenty of training and affection while monitoring their progress, happiness and well being. As well as allowing for a strong relationship between trainer and their dog.
How many dogs do you take at a time? 8 dogs a week, allowing 4 dogs per trainer.
Will my dog socialize with aggressive dogs? Dogs are dogs and sometimes even the most easy going dogs can have a disagreement. We monitor all dog/dog interactions. Dogs that we deem aggressive will only socialize with our pack.
How often is my dog out training? Every dog is different and we customize training to each dog and their needs, whether it's multiple short training sessions or a few long training sessions. Either way at the end of each day every dog is mentally and physically exhausted and ready for rest.
Will my dog miss me? Your dog will be stoked to see you for your Friday lessons and go home with you. However, clients tell us time and time again how excited there dog is to return on Monday as they drive down our street.
What age does my dog need to be to join training? Typically 3.5 to 4 months. All dogs coming onto our property need to have their first 3 sets of vaccinations.
Is my dog too old to train? You CAN teach an old dog new tricks. We have worked with mature and senior dogs as long as they are physically well enough to train.
What vaccinations does my dog need? Kennel Cough, Parvo, Distemper and Rabies.
Will my dog behave for me when they come home? All our programs are designed to ensure you have success after leaving our facility. See board and train descriptions for more info.
E-collar FAQ
Why e-collar training? This training gives you the ability to communicate with your dog off-leash. Allowing both you and your dog freedom and safety.
Why does e-collar training take 2 weeks? After doing this for years, we have created a program that respects the dog and train in a humane and kind fashion. This allows the dog to fully understand the new commands and communication on the e-collar. Our goal is for you to leave after two weeks with a dog who is trained properly on the collar.
Can all dogs be trained onto an e-collar? Not all dogs are suitable for e-collar training, this largely depends on age and size, however you may be surprised at how many can really benefit from the training. 100% recall is a favourite!
Will you train e-collar in private lessons? We promote humane training, and in order to teach a dog communication on the e-collar it is important for the handler to be well versed in timing and when to increase pressure and stimulation. The e-collar is a wonderful tool when used with knowledge and care. It is our opinion that the initial training be applied by a professional that has experience in training dogs onto the e-collar.
Will my e-collar make my dog aggressive? Like anything, if your dog does not understand what or why a negative is happening to them, it can definitely make things worse. This is why we take the time to ensure the dogs fully understand the communication of the e-collar and where it is coming from. Proper training on the e-collar will give you and your dog safety and freedom, which is really important for a dogs mental health.
Testimonials
"
Our family adopted a rescue dog, Annie, back in September and we quickly found out she was very aggressive to other dogs. She was also resource guarding her food and her space. Laura was recommended to us by the SPCA as we wanted to see if Annie could be trained to be around other dogs and be trusted with our 4 kids. Laura is one of those people who is meant to be working with dogs. Right from the beginning with a few tips, Annie had calmed. Laura was able to explain Annie's personality and tailor a training plan to her needs. We did weekly group training sessions and then Annie went for 12 days in her 'Board and Train' program. Annie can now be around other dogs, she is on the left in the picture below. She has also learned her place in the family. Any one of our kids can go up and hug her while she is eating her food. Annie is adored and loved and it was thanks to Laura's expertise as a dog trainer.
"
We did the board and train with Laura to help our 5 year old work on his dog aggression and socialization. We had trainers in the past but still had difficulty controlling him. After he was with Laura for a week he learned new techniques that enabled him to walk in city park. Not only did Rudy learn but Laura spent time with us to teach us how to control him and make him a calmer and more sociable dog. Thanks again Laura!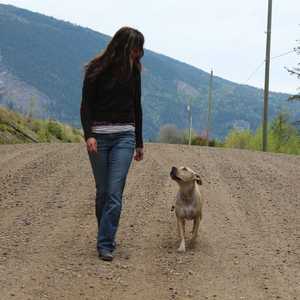 A Little About Me
Born and raised in Kelowna, B.C., I grew up on a farm in the beautiful Okanagan surrounded by animals. Like all young girls my initial passion was with horses. I hold a certification in Equine Massage Therapy which I still practice and can apply to our canine friends. I have bred and raised CKC registered English Springer Spaniel's and Yorkshire Terrier's, but my true passion for dog training began when I adopted a Pitbull mix rescue from LA. He had burned his way through three foster homes with his out-of-control behavior and found himself awaiting the right owner to come help him with his wayward ways i.e. me. Dealing and training this new fur friend of mine developed a fascination for the canine mind true pack leadership and balance. The true realization that our dogs are happy and relaxed when they know how to behave and what is expected of them became critically clear. An obedient dog will fully respect and always love you. I have since taken a formal education becoming a Certified Master Dog Trainer and Behaviourist, and have enjoyed working with all types of dogs and their humans. My method of training dogs consists of motivation praise and correction, while tailoring to each dog specific needs and always respecting the dignity and capabilities of handler and dog. I look forward to answering any questions you may have.